The Stone of Destiny by Caroline Logan is the first book in YA series The Four Treasures. Ahead of the publication of book two, The Cauldron of Life, towards the end of this year, Caroline is hosting a read-along with bloggers and readers of the first book. She will be giving us insights along the way, and we will all be celebrating Scotland and the myths and legends that inspired this story.
Thank you very much to publisher Cranachan Books for sending me a copy to read.
Without further ado, let's get into my first impressions of this novel and week 1 of the read-along. Visit Caroline's Twitter to follow along and learn a little bit more about this series. Here she is to introduce you to her books!
Video originally tweeted by Caroline Logan 3,011🌈📚 (@bearpuffbooks) on August 3, 2020.
Week 1: Chapters 1-10
Summary
In this first part of the novel we meet the protagonist, Ailsa. We find her alone and living off the land. Very quickly she stumbles across a woman in trouble and saves her and her brother from attack. Whilst they are recovering from the attack the mysterious woman, Iona, convinces Ailsa to accompany herself and her brother Harris on their mission to offer them protection. Having nothing keeping Ailsa where she is, she agrees and the trio begin their quest by first heading for the capital city of the land.
What do i think of the characters?
I really love all three of the principle characters so far. Ailsa is a certified badass. She is ballsy and can handle herself. I'm really enjoying her snippy comments and her dynamic with Iona and Harris. I'm intrigued by the snippets of her life that we've learnt so far and I have so many questions about her past that I can't wait to unravel. Iona is great too. She seems like the guiding light of this novel, all wisdom and grace. Harris is the comic relief and his witty remarks and comebacks are everything. The banter between him and his sister, and the arguments with Ailsa are everything. His personality oozes off the page.
What did i enjoy most?
I love the mythology element in this story. It lead me into a research spiral, which is always a good sign. In these first few chapters we learn that Ailsa is seen as a Changeling by the village she grew up in due to a birth mark on her face. It's also quickly clear that Iona and Harris are Selkies, mythical shape-shifting seal people. I'm hoping we get to learn more about all of this as the novel moves forwards.
What am i looking forward to in the next section?
As well as seeing where the mythology develops, I'm looking forward to seeing what life is like in the capital city. I love world building so I can't wait to see what this world has to offer, especially with such a stunning map in the front of the book!
Picture from Caroline Logan on twitter (@BEARPUFFBOOKS)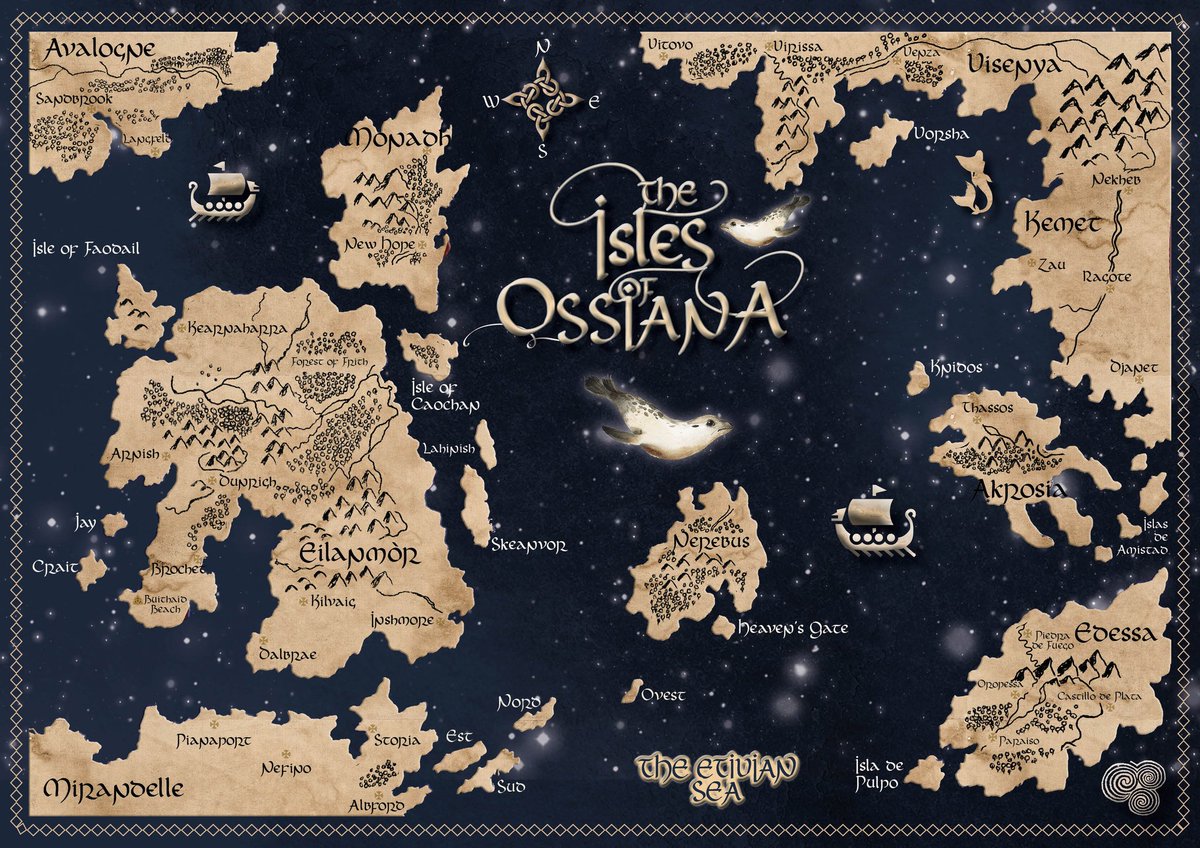 That's it from me for week 1 of The Stone of Destiny read-along! Let me know if you're joining in.